About Us
Company History
Insecon Oy's history goes back to 2012 when a local group of investors decided to purchase the business TP-Tuotantoautomaatio Oy. As a result of the transaction, TP-Tuotantoautomaatio's skilled personnel transferred to work for the new company. The new company was named TP-Automaatio Oy. The roots of TP-Tuotantoautomaation date back to Tampella through its "TehdasPalvelu" business.
In 2017, TP-Automaatio changed its name to Insecon Oy.
A new strong player emerged in the industrial electrical and automation business in 2019, when Insecon Oy and Tampereen Teollisuusautomaatio Oy (TTA) merged their operations.
History as a flow chart: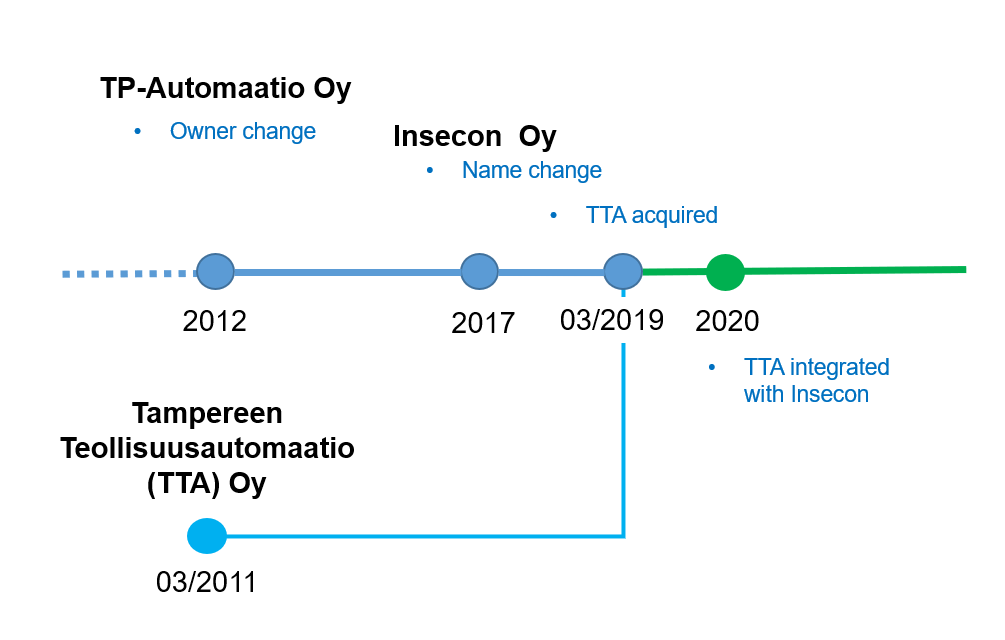 Insecon as a company
Our deep understanding of our customers industrial automation processes in many different segments means we are able to deliver your projects efficiently and on schedule.
Our range of maintenance, optimisation and modernisation services means we have the right solution for you to ensure your process/production machines/lines are always working efficiently.
We serve our customers in all industry and industrial facility related electrical and automation installation and contract works.
In addition to industrial segments we also serve the public sector, real estate and retail segment. We install and maintain all electrical power and lighting systems in these segments.
Cost efficient and high quality
Insecon's professional and experienced staff, S1 electrical qualification and HSEQ certification, combined with an organizational structure that enables an efficient cost structure, allow us to offer high quality and versatile services at a competitive price.
HSEQ
Insecon Oy is a HSEQ certified company by Kiwa. During the HSEQ-evaluation the processes and operations for work healthy and safety (HS), environmental responsibility (E) and operational quality (Q) will be checked. The criteria for the evalution is based on the principles approved by the ordering companies (= customers) together. The certificate valid at the moment has been given to Insecon with great points. The deviations/improvement areas detected during the evaluation were taken to development list together with other inputs and are used for the continuous improvement.
For the company the HSEQ-approval has been important, because it shows that we operate based on the common criteria approved for the purpose. At the same time we try to implement the ISO-standard based instructions/criteria whenever it's possible.
Shortly stated the HSEQ-areas mean the following to us:
Healthy (H): Personnel's total health, where beside the occipational heath we have included more and more proactive and preventive actions.
Safety (S): The identification of safety factors/risks of the project and maintenance businesses. In the oprations we try to include both customers' and our own safety requirements and react in advance at the daily operations throurg training and safety work.
Environment (E): This area covers our operations and selections which are based on both our customers' and our own environmenttal responsibilities. Whenever it's possible we select the best solutions for the environment.
Qualiy (Q): The capability to make outstanding work quality is the most important impact our company could give to customers. We work always so that we meet and even exceed the criteria given by the clients. We follow and develop our operations based on continuous improvement methods.
HSEQ-sertificate:
Excellent location
Insecon's offices are in Tampere (head office) and Nokia. The majority of large and medium-sized production facilities in the southern part of Finland are located within a 200-kilometer radius of the company's head office. Our maintenance services are competitive at this distance. In addition, we offer contracting services and certain tasks requiring special expertise throughout Finland and in our domestic customers' foreign destinations.