About Us
Company History
Insecon Oy's history goes back to 2012 when a local group of investors decided to purchase the business TP-Tuotantoautomaatio Oy. As a result of the transaction, TP-Tuotantoautomaatio's skilled personnel transferred to work for the new company. The new company was named TP-Automaatio Oy. The roots of TP-Tuotantoautomaation date back to Tampella through its "TehdasPalvelu" business.
In 2017, TP-Automaatio changed its name to Insecon Oy.
A new strong player emerged in the industrial electrical and automation business in 2019, when Insecon Oy and Tampereen Teollisuusautomaatio Oy (TTA) merged their operations.
History as a flow chart: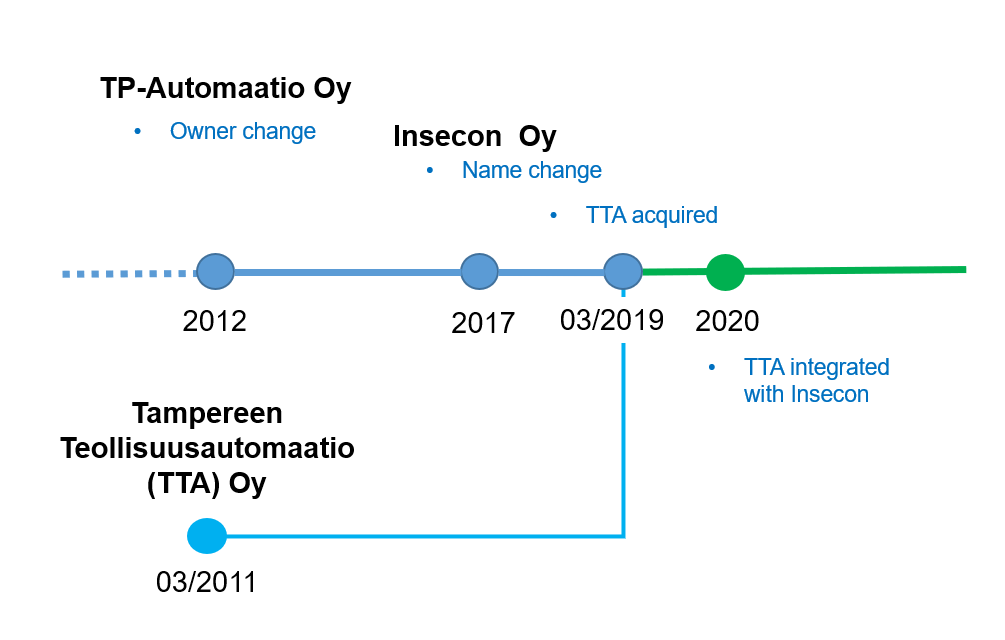 Insecon as a company
Our deep understanding of our customers industrial automation processes in many different segments means we are able to deliver your projects efficiently and on schedule.
Our range of maintenance, optimisation and modernisation services means we have the right solution for you to ensure your process/production machines/lines are always working efficiently.
We serve our customers in all industry and industrial facility related electrical and automation installation and contract works.
In addition to industrial segments we also serve the public sector, real estate and retail segment. We install and maintain all electrical power and lighting systems in these segments.
Cost efficient and high quality
Insecon's professional and experienced staff, S1 electrical qualification and HSEQ certification, combined with an organizational structure that enables an efficient cost structure, allow us to offer high quality and versatile services at a competitive price.
Excellent location
Insecon's offices are in Tampere (head office) and Nokia. The majority of large and medium-sized production facilities in the southern part of Finland are located within a 200-kilometer radius of the company's head office. Our maintenance services are competitive at this distance. In addition, we offer contracting services and certain tasks requiring special expertise throughout Finland and in our domestic customers' foreign destinations.